BEDFORD FLAG RETIREMENT DAY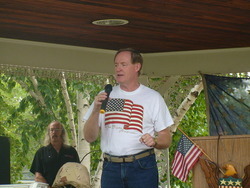 I had the honor and pleasure of performing my patriotic songs (left) at the Bedford Flag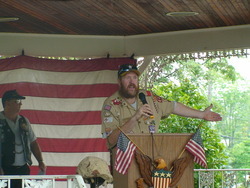 Retirement Ceremony on Saturday, August 21, 2010. This is an annual ceremony spearheaded by the hard working

Mr. Ernie Walker Ernie Walker,

S

co

ut Master of Boy Scout Troop 447

(right)

. This is quite a demonstation of the proper way to dispose of the flag when tattered or simply worn and faded. Local radio personality at WNCX 98.5 FM, Bill Louis (below left)

,

 

 was the emcee and did his usual fine job. The Boy Scouts of America, Bedford's police department, and the USO participated. Mr. Joe Spellacy of Three Discateers Entertainment provided the sound system and music.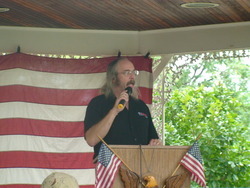 Also present was Ms. Janie Reinart, co-author of Love You More Than You Know, a "...powerful, heartbreaking and patriotic book...", containing mothers' stories about sending their songs and daughters to war. Her website is www.LoveYouMoreThanYouKnow.com.

She

is pictured to the bottom left, signing her book. 


Below are many photos of the event. Click on photo to enlarge.